A Short
Biography of
Thomas J. Smith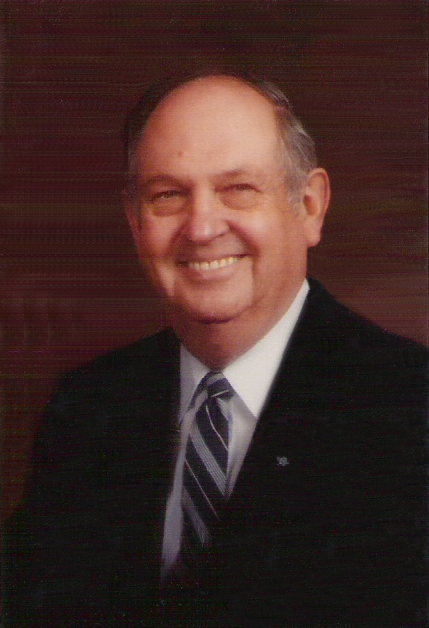 Thomas James Smith was born August 28, 1920 in Fort Worth, Texas to Gregory K. and Pauleen Smith. His father emigrated from Greece in 1914 at the age of 17 and eventually found his way to Fort Worth. Tomís mother was born and raised in Fort Worth and her heritage was Dutch.
Tom was the oldest of five boys and they all grew up in Fort Worth. He attended grade school and high school there and then after military service attended Texas Christian University. He held various jobs in Fort Worth, including a stint in his fatherís restaurant, the Paris Coffee Shop. The restaurant is still in business today operated by Tomís youngest half-brother.
While he was working at the Coffee Shop, he met Ruby Ellen Scott. They were married on April 1, 1938. In June 1939, their daughter, Patricia, was born, and in September that year Tom joined the National Guard. The Guard was mobilized in January 1941 and he was sent to Camp Bowie, Texas. He was given a medical discharge in May 1941, and he then started work for an architectural firm where he learned to make blueprints. Shortly after that, he went to work for the Army Corps of Engineers to do the plans for Camp Hood (now Fort Hood, Texas).
When that job was completed, he was sent to Alaska as Chief of Security for the ALCAN Highway construction project. He spent a year in Alaska, finally returning to Fort Worth in 1945. At that time, he joined the Fort Worth Police Department, and he and his wife, Ruby Ellen, bought their first home in River Oaks, a suburb of Fort Worth. T.J. (as he was known at that time) found that he loved police work.
About a year or so after he joined the force, he was involved in an incident which could have turned out to be very bad. The story made the front page of the Fort Worth Star Telegram and a yellowed copy of that story tells it like this:
Early on Sunday morning T.J. Smith and his partner, Marshall McMahan, were on patrol in their police cruiser. About they saw two men, later identified as Indiana bank robbers Ernest William Ford and Paul Edward Gibson, in front of a church on the south side of Fort Worth. T.J. and his partner were on call at the time and couldnít stop, but an hour later they were back looking for the two suspicious men. They cruised around the area for about 30 minutes before returning to the church on West Magnolia. There they saw one of the men across the street. Suddenly the other man appeared out of the alley. T.J. and his partner watched the pair stroll around the corner and walk up to a man at the bus stop on Hemphill. McMahon got out to question them, and T.J., sitting in the patrol car, automatically unfastened the flap of his pistol holster. The bus pulled up and the Fort Worth man waiting for the bus, who the officers believed was an intended robbery victim, got on. As the bus rolled away, McMahan discovered Gibsonís concealed pistol, Ernest Ford drew his .45 automatic, and T.J., watching from inside the car, opened fire on Ford, shooting him twice through the closed windows. As T.J. brought down Ford, McMahan stepped out of the line of fire and covered the other suspect. As it turned out, the two robbers were also guilty of murdering a man in Indiana during their robbery spree.
It wasnít long after that when Tom advanced to the level of Sergeant. Then in January 1950, he was sent by the Fort Worth Police Department to attend the FBI Academy in Quantico, VA. At the end of his three-month course, he returned home and for the next six months taught the Fort Worth police officers the tactics he had learned at the Academy.
In October, 1950, he was offered the position of Special Agent with the FBI and was sent to San Diego, CA for his first assignment. In June 1951 he was transferred to Albuquerque where he worked for nine years. During that time he attended many of the three-month training sessions offered by the FBI, such as Defensive Tactics, Major Case Investigation, First Aid, Telephone Surveillance, and Sex Crimes Investigation. Because of this training, he was asked to assist the Albuquerque Police Department by teaching courses to their cadets attending the police academy
During his tenure in Albuquerque, Tom and Rubyís son, David, was born in 1953. It was also during this time that Tom became a member of the Episcopal church and served as a Lay Reader at St. Markís-on-the-Mesa. Later on he served as Senior Warden in churches in the other cities he lived. In June, 1960, Tom was transferred to the Army Language School in Monterrey, CA to attend a 48-week intensive training in Albanian. Following his graduation from that school, he was transferred to the Espionage Division in New York City, where he served three years working closely with Albanian refugees from that Communist-ruled country.
In 1964 Tom was again transferred, this time to the Intelligence Division at FBI Headquarters Office in Washington, D.C. He served as Chief of the Research Section in the Latin American section. He was later promoted to Inspector and assigned to the Domestic Intelligence Division as a Deputy Assistant Director, where he reported to Ed Miller and Mark Felt.
During his assignment as Inspector and Deputy Assistant Director he appeared before various congressional hearings related to FBI operations. In early1974 he was selected as the US Delegate to the NATO Special Committee in Brussels, Belgium. He retired from the FBI in October, 1974, after 24 years service.
Since he and his wife had always had a special fondness for New Mexico, they moved back to Albuquerque in September 1975. Tom became an active member of the Society of Former Agents of the FBI and served two years as president of the local chapter.
He and a friend, Dolph Saenz, founded the local chapter of the Association of Former Intelligence Officers, AFIO, and he served two terms as president. He was active in the organization for the rest of his life. He was also a member of the Elks Club (BPEO) for several years and served as chairman of the Americanism Committee. He was active in the Association of Central Intelligence Corps Veterans (ACICV).
For eight years from 1976 to 1984, he worked for the New Mexico State Fair as Chief of Security for the Racing Division.
During his last twenty-five years he helped in Rubyís growing doll business as manager, inventor of special tools for making dolls, and as all-round helper. He was always on hand to help transport dolls to and from doll shows and help with the sales at these events.
His health began failing in the spring of 2001, and after a fall on the ice in January 2002, he developed a hematoma in the brain. On March 21, 2002, he underwent brain surgery to remove two hematomas. He was transferred to a rehabilitation center where he stayed for one month before passing away in the early morning hours of April 21, 2002.